Please wait a moment, the pictures are loading.......
mushroom fairy
"Little Blue"
one-of-a-kind fine art doll #88 /2010
ooak fantasy sculpture by Helena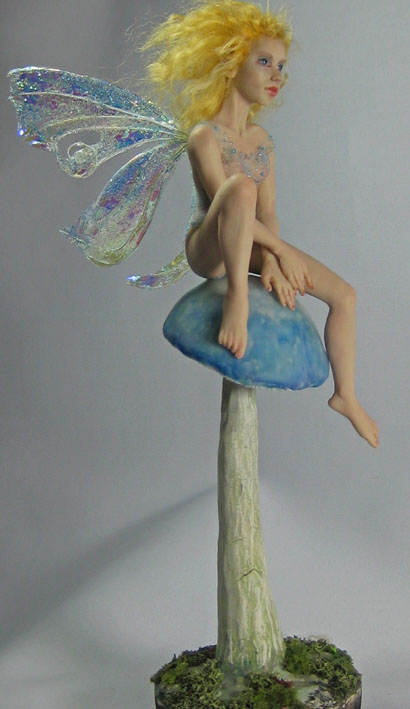 Little Blue is hand sculpted from artists polymer clay Living doll light
over a strong wire armature and she is totally unique.
I'm always careful to use manufacturer's recommendations for baking.
This is an original one of a kind sculpture - an art doll - and it will never be duplicated .
I never use any molds in my work. All features - also her eyes - are hand painted
in heat set paints (genesis).
Her skin is light clay, shaded and blushed to give her a natural glow.
The hair is blond tibetan lambs wool .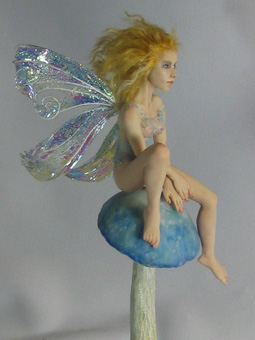 Little Blue is signed on his back and comes with a COA.
She comes also with her base, a hand sculpted mushroom, and she is removable.
Little Blue is about 6,5 inches tall in her sitting position.
on her mushroom base 10,5 "
(base 7" - diameter 3")
Thank you for your interest in my work.

Die kleine Pilzelfe "Little Blue" ist zierlicher als meine normalen Elfen und sitzt melancholisch auf einen hohen blauen Pilz. Gerade sein schlanker leicht gebogener Stil läßt die Elfe noch zarter und zerbrechlicher wirken, wenn sie mit ihren großen traurigen Augen den Betrachter anschaut. Nicht nur das Modellieren der zarten Elfe hat viel Freude gemacht, auch in den Pilz habe ich mich total verliebt.
Die beiden passen auch wunderbar zusammen. Gearbeitet ist die Elfe aus Living Doll light -wie immer über ein stabiles Drahtskelett. Sie ist frei von Hand und ohne jede Vorlage modelliert. Little Blue auf ihrem Pilz ist ein Unikat, eine one-of-a-kind Skulptur und ohne Verwendung von irgendwelchen Formen entstanden. Sie ist auf dem Pilz lose, d.h. abnehmbar befestigt.
Die Bemalung erfolgte mit hitzehärtenden Farben (genesis). Der hohe Pilz ist auslufthärtender Masse modelliert, mit Acrylfarben bemalt. Die Pilzkappe ist zusätzlich mit transparentem Clay (Fimo) überarbeitet.
Die Figur ist ein mit aller Sorgfalt hergestelltes Sammlerstück und gehört nicht in Kinderhände. Sie kommt mit Certifikat.
Danke für Ihr freundliches Interesse an meiner Arbeit.
All rights reserved - all pictures and artwork copyright dolls-and-desire 2010